QB44
We have QB44 certificates according to French standards for door and window reinforcements. Landsberg's steel profiles manufactured for reinforcing windows and doors are also certified in France by the Scientific and Technical Center for Building (CSTB) Centre Scientifique et Technique du Bâtiment – CSTB. We have QB44.
The CSTB is a public industrial and commercial corporation (EPIC). It assesses the quality of products according to the technical parameters and construction standards in force in France. Additionally, the CSTB examines many important aspects of the company's production and operation.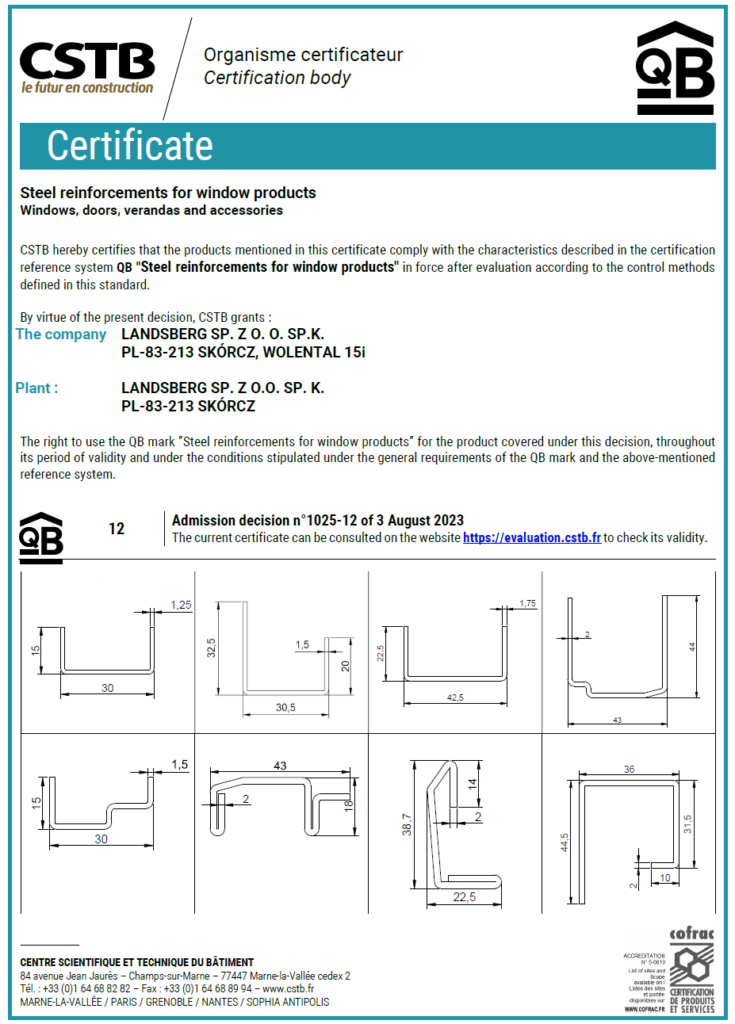 We have QB44.
The Landsberg Group's factory in Wolental, Pomerania, is a renowned manufacturer of high-quality steel products. This market recognition is the result of its constant pursuit of excellence. Pomerania's products reach the customer always on time, in every corner of Poland and the world.
Distinguished by numerous awards, the company has been shining in the face of competition for years. This is due to its constant adherence to the highest standards of quality, safety, and environmental protection.
Mission & Values.
The mission of the Landsberg Group's factory is not only to provide the highest quality products but also to ensure sustainable development. That is why the factory has implemented a whole range of measures to meet the strictest production requirements.
Industry Standards & Norms.
We have QB44. The steel profiles produced by the Landsberg Group's factory guarantee unquestionable quality. They meet international industry standards such as QB44, ISO, and PKN, providing customers with products they can always rely on.
The Landsberg Group's factory operates in full compliance with applicable laws, both locally and internationally. Production processes undergo regular audits to ensure they meet all legal requirements.
Pomerania's products will always reach the customer on time, all over the world. For customers, timely delivery is a crucial matter. The Landsberg Group's factory has established proven procedures to ensure that Pomerania's products always reach the customer on time, in every corner of Poland and the world.
Ensuring employee safety is a top priority. Strict procedures are followed, and staff is regularly trained in workplace safety and hygiene. Necessary personal protective equipment is also provided.
Environmental protection is a core value for the Landsberg Group. Activities are conducted with full respect for the natural environment. Modern technologies are used to effectively reduce emissions of harmful substances and minimize impact on the local ecosystem.
Passion & Commitment.
Collaborating with the Landsberg Group's factory in Wolental is a guarantee of professionalism and reliability. They care not only for their employees and customers but also for the local community. The Landsberg Group's factory is not just a steel production plant. It is an expression of passion and commitment to creating the highest quality products. Our products satisfy customers worldwide.
Thanks to high ethical standards, the products are not just steel items; they embody steel values.
STANDARDS AND TECHNOLOGIES – Landsberg Steel Profile Manufacturer.
Our standards and technologies – Landsberg Producent Profili Stalowych